What do you think of playing online or mobile games? There were different points of view about the issue as some might think it was just to kill time. Whereas some claim that if you are talented at creativity and innovations, you can actually develop this skill and pave your career. On the contrary, you would be forced to give up your interest if you are not extraordinary enough. It would be good news to all of you as you could play to earn. The birth of NFT (non-fungible token) makes your wish come true.
Initial play-to-earn NFT game – Cryptokitties

At the end of 2017, Cryptokitties was popular all over the world. It attracted countless players to collect, breed and sell these cute kittens. Cryptokitties was developed by Axiom Zen which was a Canadian startup. The system operated through Ethereum's smart contract.
The system allows players using Ethereum (ETH) to buy kittens on the game platform, the smart contract set on blockchain will automatically run with the preset rules. Each kitten on the platform is unique so they all have different prices (values). In the platform, Cryptokitties are NFTs and the value of each NFT depends on its genes and rarity. If the variety is rarer, the NFT value would be higher.
The Cryptokitties with the highest value is called "CryptoKitty Dragon" which was sold for $1.34 million. The team mentioned the purpose of making CryptoKitties is to demonstrate the usage of NFT – they believe that DeFi (decentralized finance) has other practical uses apart from currency speculation and finance. Facts have also proved that NFT is valuable in the market.
Highest-grossing NFT game – Axie Infinity

NFT Games is under the spotlight. "Axie Infinity" was born in 2018 and since 2020, the players of Axie Infinity (AXS) and Small Love Potion (SLP) are allowed to top-up and trade their tokens (ERC-20) via Binance.
Axie Infinity is a strategic battle game. Players need to purchase at least three NFT elfs "Axie" to start the game. Each NFT costs about 0.15 ETH. Players can also get Small Love Potion (SLP) in the adventure game which can help two Axies give birth to another Axie. It can also be sold on Uniswap. Players can also sell Axies to earn ETH. Since each NFT is unique, their prices are different.
The original price of Axie was no more than 0.15 ETH. Last year, one Axie was only sold for 0.01 ETH. As of this year, the most expensive one was sold for more than $15,000 – undoubtedly, some NFT games with high popularity really help players earn a lot.
NFT sports game – Sorare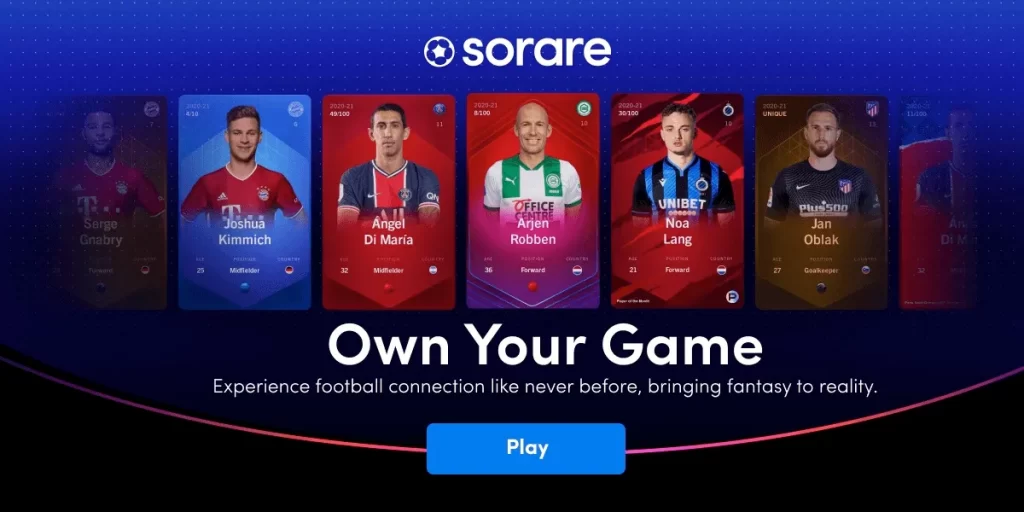 Sorare is an NFT football game, where gamers can buy or trade virtual playing cards. The special feature is that the football player cards are all actual footballers, and their in-game performance is linked to the real season performance. If they perform well in the real world, the value of the cards will also go up.
Sorare's playing cards were divided into 3 categories like NBA Top Shot, namely Rare, Super Rare and Unique. Each NFT will determine its value through scarcity and uniqueness. Before each season, the Sorare team will determine the supply of each player card and will let gamers know how scarce all cards in circulation are.
Games will receive 10 ordinary cards to create their team at the beginning. After that, they need to select midfielders, forwards, defenders, goalkeepers and substitutes as the starting deck. They need not do anything during this period, just wait for the game to run and finish. In November 2020, the most expensive NFT player card is the Kylian Mbappe which cost $65,000.
More market news about the most popular NFT games, NFTs and related blockchain solutions will be updated in our upcoming blogs. Certainly you can also try to play the NFT games just mentioned to see if you can earn extra income!